Homestead Happiness Classes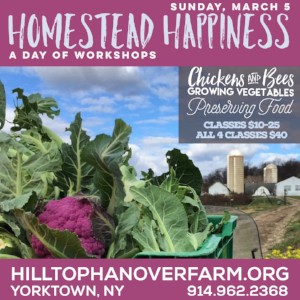 Pay us a visit Sunday, March 5 for one, or all four, of our Homestead Happiness workshops. The day is dedicated to teaching you how to: create your own homestead vegetable garden, start up a bee hive, add a flock of chickens, and preserve the seasons bounty through fermenting, freezing, and dehydration.
Introduction to Backyard Chickens
9:00-10:00
Are you ready for your first flock? A walk through of getting started including: picking out your breed, raising chicks to maturity, housing and feeding needs, all about eggs, and what else chickens can do for your compost and garden. Fee $10. First class of 3-part series - please see separate Backyard Chickens event to sign up for all three for $40!
Hive & Apiary Set-Up
10:00-12:00
Learn about hive placement considerations in urban and suburban areas, how to order, assemble, and maintain tools and equipment. There will be a demonstration of assembling a Langstroth wooden hive and frames. We will visit the apiary at Hilltop Hanover Farm (weather permitting) and learn more about proper hive location and what bees need for full health and survival. Fee $20.
Garden Planning
12:30-1:30
Join our experienced farm staff in planning a garden of your own. We will discuss soil types, tools, seeds, and vegetable choices. Preparing you to embark on your own journey of vegetable gardening. Fee $10.
Preservation & Fermentation
2:00-3:30
Learn the basics of fermenting, freezing and dehydration, and all the health benefits of fermented foods, such as probiotics and Omega-3 fatty acids. Leave with a delicious and healthful fermented product of your own! Fee: $25.